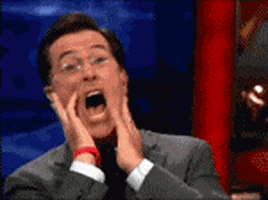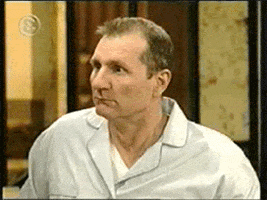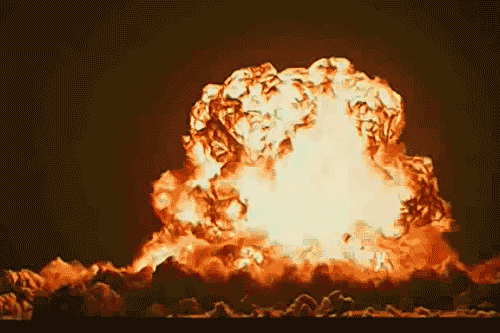 *
p.s. Hey. Today's post-shaped greetings come courtesy of Thomas Moronic who bestows upon us the fifth configuration in his legendary EVERYTHING IS FUCKED series. It's a happy day in DC's, in other words. Please smile beatifically in language form in his direction, thank you. And thanks a ton, Mr. T! ** White tiger, Math! Aw, thanks, pal. I love you too! ** Matthew, Hi, man. Oh, man, you have so inspired a concentrated google search right there with that Colon, Michigan thing. And can a related blog post be far behind? Probably no doubt. It sounds like the weirdest heaven. Thank you! Got your email, and I think Thursday should work perfectly, it being in all likelihood a semi-day-off for me. I'm in the 10th arr. Let's coordinate. The train strike is a real thing. My friend Zac and I were supposed to train to Le Mans today to check out a film location, and now we're going by rental car by necessity. Whoa, Cal Arts! That's very exciting! Another friend of mine is starting at Cal Arts this September. Oh, you can certainly make the institution work to your benefit. Think new comrades, resources, access, etc. etc. Anyway, hopefully we can talk all about that tomorrow. Kevin Drumm is playing here tomorrow night, if that's of interest. ** Bill, Hi, B. Ah, shit, about the IRCAM gig. I'll be driving through the French countryside in the direction of Paris while it's happening. Damn, piss, shit. Oh, well. The trailer looks fantastic! Thank you. ** HyeMin Kim, Hi. Interesting that you were introduced to his work by an American critic. Perhaps he's one of those artists who's more appreciated outside his own country? I don't know. I'm still new to him. Thank you for the further song suggestion. I'll listen to it shortly. I would love to have that essay in a blog friendly form, needless to say. Yes, know that I'm very interested indeed! Zizek seems like he'd be a weird interview, or I mean that interviewing him would make an interviewer feel weird, yeah. I don't think I'm much of a fan of his. I was on the fence for a long time, but lately I think I've lost interest or something, I'm not sure why exactly. ** Timmyfatlips, Hey! I already thanked you, pixelated face to pixelated face, via the magic that is Skype technology, for commenting here, but, heck, I'll do it again since textual thanks have a whole different vibe or something. Thank you. It was super fun to talk and see you and the other guys and the room in which the cyber is becoming motion-filled and concrete and all that stuff. Anyway, yeah, if it feels fun and suits your purposes, please reenter the comments arena. That would be sweet. Great day to you! ** Torn porter, Hay to you! Yeah, and the hamster hotel isn't so very far away from Paris either. Tomorrow could very well work. Or maybe Friday. I'm sorry to be so scattered in my sense of what my time holds. It's a bit crazy and improvisatory these days. But I think maybe tomorrow. I'm gone all day and evening today, but let's confer in the morning, yes? Have a blast, and hugs to Ratty! ** David Ehrenstein, Ha ha, I'm sure you can imagine the look on my face as I imagine a clothing optional hotel located in Palm Springs. But you know how I love spooky houses, ha ha. ** Scunnard, Hi, J. A day at Amoeba, oh, sigh and drool and so forth. Dude, forking over more dough than is your want on records is okay in a hand-basket, as my grandma used to say. Yes, I want a copy. What do you think?!? Of course I do. Yeah, the film project is both gearing up and literally happening at the same time. It's pretty great! There isn't a whole lot of everything else right now. Some novel, some this and that. It's all really good. I'm a happy camper du jour. Enjoy another day in LA. What did you do? Tell me. ** Kier, Hi, K. If you click
this
, you'll see a map of Kongeparken. You see where the main entrance is at the bottom? If you walk in it and immediately turn left onto the first white path, it will be on your right pretty much as soon as you pass those buildings. Or that's where it was, if you want to check. If it's there, can you take a photo of it, or, I guess, if it's not there, can you take a photo of where it was? But, oh, I so hope it's still there. Scary. Wait, you said your day was scary. It seemed like maybe you mean scary in a good way? I hope so. Yeah, I'm very interested to hear about the big thing whenever you feel like talking about it. Love galore to you! ** Keaton, Hey, K-ster! Ooh, awesome, more you-generated memes. Can I offer you an official invitation to do a you-generated meme post for this here blog if that idea ever strikes you as a fruitful and fun one?
Everyone, maestro of the emo stack turned maestro of the meme, Keaton, has a new display of his mighty wares up on his blog, and, yeah, I strongly suggest be with it.
Love is awesome. You should totally fall into it. Why are you a fucking mess? I think my favorite Breeders album is 'Title TK', which is probably a weird choice. Thank you kindly! ** MANCY, Hey, buddy! So great to see you! How did school finish up? You good or even better? ** Chris Goode, Hi, Chris! It was so nice to see you with Skype's help, even if it was mostly seeing a slice of you bobbing and weaving in and out of the the left side of the frame. It was really nice to see everybody else too. Everybody's so nice and looks the nice part as well. I hope my blah blah was helpful. Trousers are coming off? Yowza! You guys don't say pants over there? That's interesting. Do people in your neck of the earth still call cigarettes fags openly and without fear of recrimination? I've been wondering that. You picked a real goodie there with 'Tractor Rape Chain'. I approve. Null Stern, right? Such a good name. For an album, for ... gosh, I can't think of a single thing whose public image wouldn't be improved upon by that name. More to come, awesome! Bring it on. Don't spare my or our anything! Know that I'm so into what you guys are doing that I literally almost just typed the words 'I'm with you in spirit', which is really, really a sign of something. Love from me to you and to the whole bunch! ** Schlix, Hi, Uli. The discrepancy between the awesomeness of the name Null Stern and the unpleasantness that would surely ensue were one to actually stay at that hotel is quite remarkable. I kind of think I would really like to stay in that public bathroom hotel for reasons I can not explain even to myself. ** Michael_karo, Whoa, Michael! Long time in-mega-deed! Everybody and his brother has copies of 'Gone', and here I am practically next door to its source, and I still haven't seen a copy yet. French post, I curse the day it was formulated in the form it has taken. I did not know that about Steven Stayner's brother. Wow, what a weirdly cursed family. There are, I think, maybe three Steven Stayner books? You sound really good, pal. That new Mac is going to feel so nice. Nothing like a new computer almost. Do try to de-stranger yourself around here. That would be cool! Big love from me. ** Misanthrope, Yeah, I loved 'Hogan's Heroes' as a kid for the same reasons. Not as much as I loved this now kind of forgotten show of the same era called 'F Troop'. I have no idea why I liked that one so much. Right, oldie stations. Like ... what's the one called ... TV Land? I loved 'Lost in Space' so much when I was a kid too. I used to have this poster on my wall of Dr. Smith teaching the robot how to paint. My address, right. Hold on. I'll send it to you right now before I forget. Hold on. Sent! ** Sypha, That makes sense. I mean that you would like that hotel. Dominic Savio is too Josh Groban or Charlotte Church or something for me. A science fiction series is a cool idea. Like a traditional one or like avant-garde or like perverse or like ... ? I know next to nothing about sci-fi fiction, as you know. Go for it. Huh, I like that you're handwriting a book about Providence. That idea is weirdly very exciting! ** Postitbreakup Hi, Josh! Thanks for answering Chris's questions. I'm a being a silent reader of people's answers for the obvious reason. I like you online, and I'm sure I'd like you even more in person. That just makes total sense. I don't think you'd try to blow me. I'm sure I'm less blowable seeming in person, ha ha. I'm sorry about the house. It was really weird when my mom sold the house I grew up in. But then it felt like an anchor being raised on the past or something positive after a while. No apology necessary, my pal. You know me better than that. I'm really sorry that you're feeling so low. I'll make you a cheer-up post. Anything you want. Name it. ** Steevee, Hi. Oh, shit, that sucks about the obstacle to making your film. Yeah, if you want experienced actors, that makes it tough. We're auditioning our first actual actor with screen credits and theater reputation and so on next week, and there are already hoops we're being told that we'l have to deal with and/or crawl through if we end up wanting to cast him. I hope you find a way through that and can make the film somehow, man. ** Derek McCormack, Hi, Derek! No, I haven't been to La Maison de la Magie Robert-Houdin. I don't think I even knew about it. Blois is a bit of a ways away from Paris, but not an insurmountable distance. Huh. If you come over let's go! There are, like, a billion little museums here. The exploration possibilities do seem as though they're never ending. I've never heard of Julian D'Ys, but I'm going to google that person straight away. That could make a really nice blog post, hm, yum. I'll try. I think ... hm, maybe I'm wrong, but I think maybe Gisele knows Martin Margiela. Or maybe, wait, she knows someone who dated him? Or still dates him? That might be it. I'll ask her. She knows everybody. She (and me too to some degree) is friends with Dominique Gonzalez-Forrester, the visual artist who designed all of the Balenciaga stores' interiors until I guess there was some horrible firing of their head designer a while back who everybody here likes very much, and I think she then ordered them to remove all of the interior designs she did because she was pissed off. But I don't if that removal happened. She's really, really cool: Dominique. Oh, you can be all 'moi, moi, moi' and I will gratefully and hopefully gracefully be all 'tu, tu, tu'! Oh, do you know about this:
The Vent Haven ConVENTion
. It's the annual big ventriloquists convention that takes place at the big/tiny ventriloquism museum in Kentucky every year. I might be going. It's in July. Gisele is going, and she wants me to go 'cos of the big ventriloquism theater piece we're working on, and I'm not sure if I can. It sounds like it would be kind of scary, but maybe good scary, I can't tell. Meta-love to you, dear Derek! ** Right. Go back up there and get mindfucked by Thomas Moronic, thank you. I'm about to go rent then sit inside a rental car heading towards Le Mans, France where Zac and I will spend the day scouting film locations. And you? See you tomorrow.